Building Bridges and Elevating Perspectives in DEI Work
May 10, 2023

Deanna Singh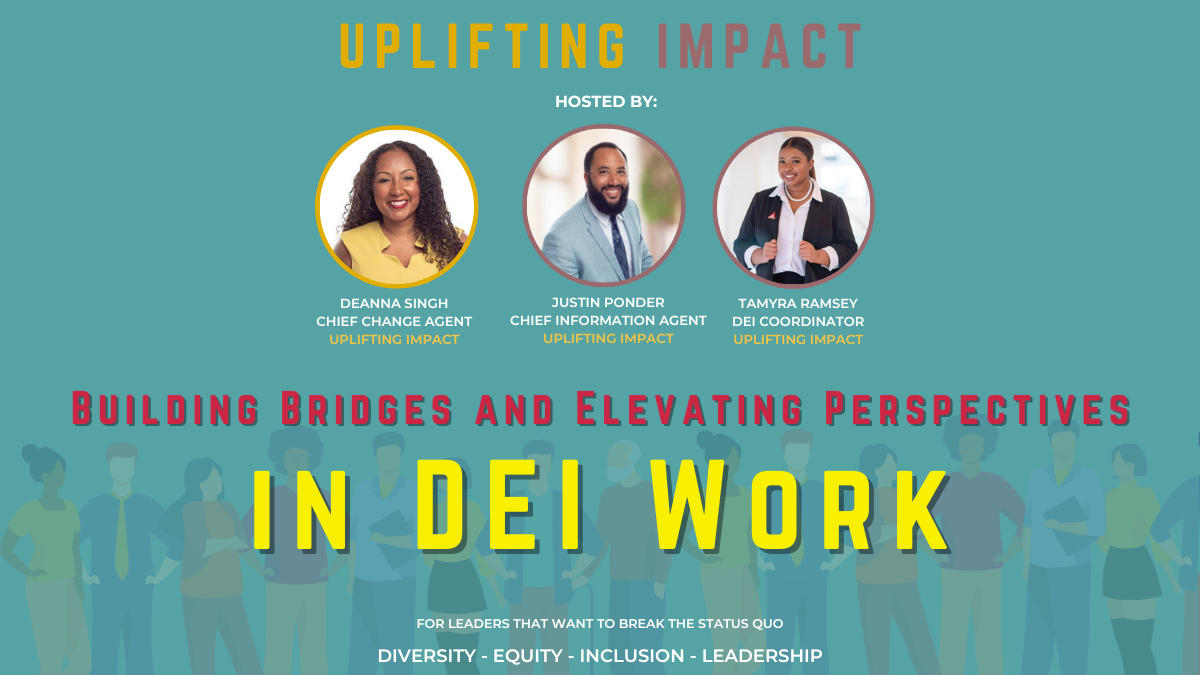 In the latest episode of Uplifting Impact, hosts Justin, Deanna, and Tamyra tackle the difficult topic of listening to perspectives that go against inclusion efforts. Through their discussion, they explore the concept of micro-inclusions and how they can be used to promote equity and inclusion in everyday life. The hosts share insights into their process of building ideas together and emphasize the value of including different voices. They also discuss the recent shift towards emphasizing individuals and their unique approaches to DEI work, with a focus on creating safe spaces for marginalized communities.
This episode offers a behind-the-scenes look at the process of creating diverse and inclusive work environments and provides practical tips for implementing micro-inclusions in your own life.
Tune in to learn more about how to handle perspectives that derail inclusion efforts and promote a more inclusive society through creativity and intentionality.
TOPICS IN THIS EPISODE:
Difficulty of Listening to Perspectives Against Inclusion
Acknowledging the Complexities of Listening to Diverse Opinions
Handling Perspectives that Halt Inclusion Efforts
Inspiration from Individuals Contributing to Social Issues
Micro Inclusions
Observing People Doing Micro Inclusions and Building Momentum
Frontline Work Guiding People on Their Journey to Make a Difference
Creating an Inclusive Space for Different Voices
Providing Feedback and Insights Behind the Scenes
Building Ideas Together
Engagement with Listeners
Importance of Diversity, Equity, and Inclusion Work
More Buy-in from Employees for Initiatives and Less Resistance
Positive Impact on an Organization
Shift Towards Micro Inclusions and Emphasizing Individuals
About Tamyra Ramsay and Her Background
The Speaker's Excitement for Traveling all over the World and Seeing Different Approaches to DEI Work
Virtual Learning Community Called the Bridge Builder Institute
Personal Life of the Speakers and Family
Children Currently Performing in Rudolph the Red Nose Reindeer
Being Creative and Making Sure People Enjoy Micro Inclusions
DEI Applied to Everyday Life
Fluidity within the Team and Speaker's Superpower
RESOURCES:
Deanna's Linkedin: https://www.linkedin.com/in/deannasingh/
Justin Linkedin: https://www.linkedin.com/in/justin-po%E2%80%A6
Uplifting Impact Linkedin: https://www.linkedin.com/company/upliftingimpact/
Facebook: https://www.facebook.com/purposefulhustle/?ref=page_internal
Instagram: https://www.instagram.com/deannasingh1/?hl=en
Uplifting Impact YouTube: https://www.youtube.com/channel/UCNs1RS6JqrU7BHeOc5W6SbQ
Uplifting Impact Website: https://www.upliftingimpact.com/?hsLang=en
Other Conversations We've Enjoyed