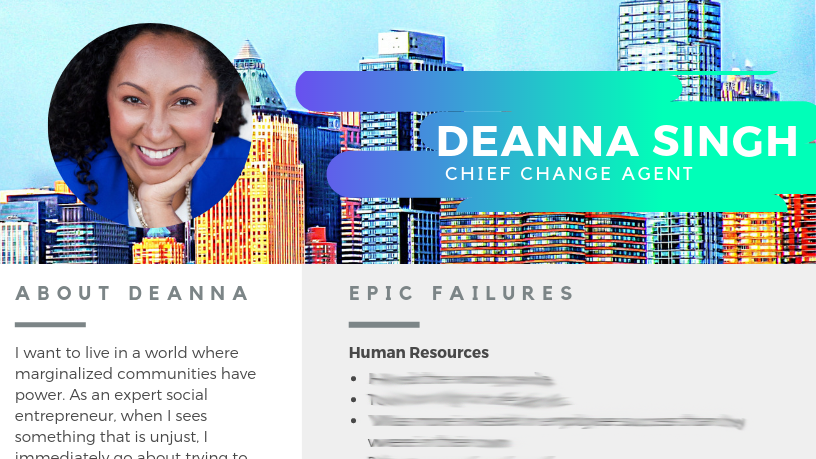 Everyone knows that a resume is a highlight of career successes. What about the failures? In my new series, I uncover my new failsume! Check out the video below to find out more.
A NEW SERIES
I'm so excited to see all of you. I have been working on a little side project for some time and it is so exciting to be able to just share it with you! Here's how this all started.
As you know, I do a lot, of keynote speaking and I love being able to meet wonderful people all over this country and share things about Purposeful Hustle, Story to Tell Books, and Birth Coach Milwaukee. I also love to show them how to make a bigger difference in this world and talk about the power of social enterprise.
A confession
One of the things that's most uncomfortable about doing keynotes is that before I get up to speak, people often will do an introduction where they go through my entire bio.
Quite frankly, they always do a really great job, but it makes me uncomfortable because when you put together a bio, you only give all your high points.
They give all the mountain tops and moments of glory. "She graduated from here, she was awarded this, et cetera.
But what doesn't happen often during those bios -- because there's not enough time and it's not the right format -- is that you don't get to share your valleys. It sounds like it's just been one achievement after the other, after the other when in reality, for every single one of those mountain tops, there have ben 10, 15, 20, 35 valleys.
About a year ago, I made a joke with a group of human resource professionals and I said, "you know what I would like to do, instead of having a resume, I would love to have a FAILSUME."

THE FAILSUME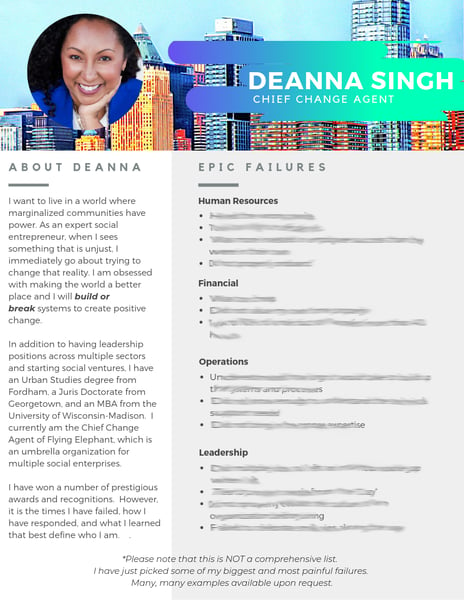 I would love to be able to list all the things I have failed at. Over the course of this last year, that's what I've been doing! I've been making this list of things that I have failed at (sometimes more than one time). These things just haven't gone well for me. I also made an addition to that list: things that you can do if you're in a situation and what you can do to get out of it faster. It has been so fun. The bad news is that I've had so many different failures, so I couldn't possibly share them all!

I've culled these failures together and picked out 12 of my biggest oops. Twelve of the biggest goofs I've made and I've decided to share them with you in the vlog over the next 12 weeks. Am I nervous about doing this? Yeah! People don't really talk about their failures. I just think it's critically important because I feel like if I share some of the things I failed at and some of the tips and tricks that I've learned along the way, then maybe I can help you not have to bump your head against the same walls that I've already bumped my head against.

With that being said, I am going to, one at a time, release my failsume in four major categories. Who knows in the time I do this, we might even have to add a 14 or 15 because I try to fail now.
I'm actually in a place where I try to fail. You're in for a treat! My hope is that as I'm putting this together, you too will start to think about some of the things that have been challenges in your own life and what you can do to move forward, get past them and share your wisdom with the world. We move faster and forward when we are able to share what we've learned with other people.
Thank you. See you next week!