Where to Find a Great Speaker for your Employee Resource Group Event
June 22, 2018

Deanna Singh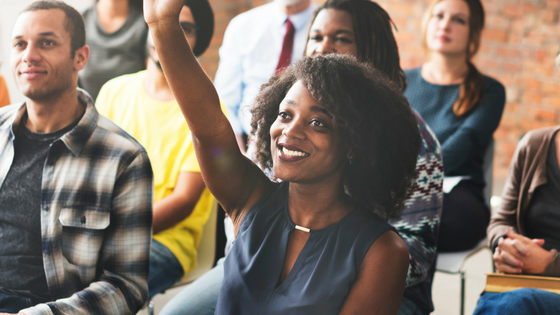 For as many dry, mundane professional development days that we've had to sit through, many of us have also experienced those absolutely blissful but rare moments when a speaker at a training really resonates with us. We've caught ourselves needing to turn the page in our notebooks or typing furiously trying to record as much information as possible. We know how it feels when a speaker can effectively connect to us in the midst of our hustle and inspire us to grow further into our purpose. We can look back and identify the impact a powerful speaker had on us and our colleagues, but the question is, how does one find a speaker like that?
Professional development events offer opportunities to learn in community and to reflect on the work we're doing so we can do it better. They're a chance to cultivate essential qualities among our employees that will take the work to the next level. At their best, employee resource group (ERG) meetings can have significant influence within a workplace. They can stir the hearts and minds of employees, renewing their sense of purpose in their work.
three places you should
start your search:
1. Your network.
It makes sense that speakers who will resonate with your organization are already in your reach, because they're probably already talking to other groups doing similar work or in your local area. People you know and people in your field are a great jumping off point when looking for a standout speaker. If someone left a lasting, positive impression on someone you trust, odds are they will be able to deliver at your event. Send some emails or pick up the phone and reach out to colleagues from your past as well as that cool woman you met at that last confe
rence. This is the perfect time to go on LinkedIn and put word out to people in your sector to find out who they have heard speak, who is presenting in an innovative and engaging way, and who would fit your current needs. The success of your speaker is much more likely when they come recommended.
2. Publications.
Audiences like to hear from experts, to feel on the cutting edge of their field. So, why not reach out to them? Browse
trending blogs, the hottest books or insightful articles to learn who is making waves in a space. See who the influencers are. Who is doing things differently, or who is doing things better than the status quo? Who can speak to the experience you want your organization to learn more about? What a potential speaker has written or published, or how they are referenced in articles about your desired topic reveals a lot about the value they could bring to your organization. Look for people who are actively engaged in the topic you are interested in.
3. The Internet.
This may seem obvious, but it is surprising how few people go to their normal wells of information to look for speakers. Explore social sites like LinkedIn, Facebook, Twitter and YouTube to find peopl
e that might be a good fit. Leveraging your online communities by letting people know you are in the market for an awesome speaker opens up opportunities for personal referrals. See if there are Facebook groups or popular pages related to your topic. Who are the thought leaders on Twitter? Look through the feeds of people or organizations you respect to see who is being retweeted or mentioned, and utilize relevant hashtags in your searching. Beyond social media, don't rule out a straight up Google search. Search engines are useful, especially if you want to branch into more creative territory or find someone beyond your existing networks. Websites and schedules for past events, trainings or conferences in other places can be a stellar place to find outstanding speakers. If they've been recruited to speak at other events, it's a good sign they're worth considering bringing to yours. Speakers, just like most businesses, work hard to be present in search engine results. Content experts will naturally rise to the top, and may reaffirm a speaker you are already considering. This is a great way to learn more about people who may have been referred through other channels.
While these steps are sure to find you a quality speaker who will be able to accomplish the goal of your event, keep in mind that if you want to go outside the box and find a speaker who is more non-traditional, you may have to be more non-traditional in your approach to finding them. Check out my post on how to bring more diversity into your speaker line-up here. *with hyperlink*