Body Inclusivity in Organizations: Blueprint for Real Inclusion
October 17, 2023

Deanna Singh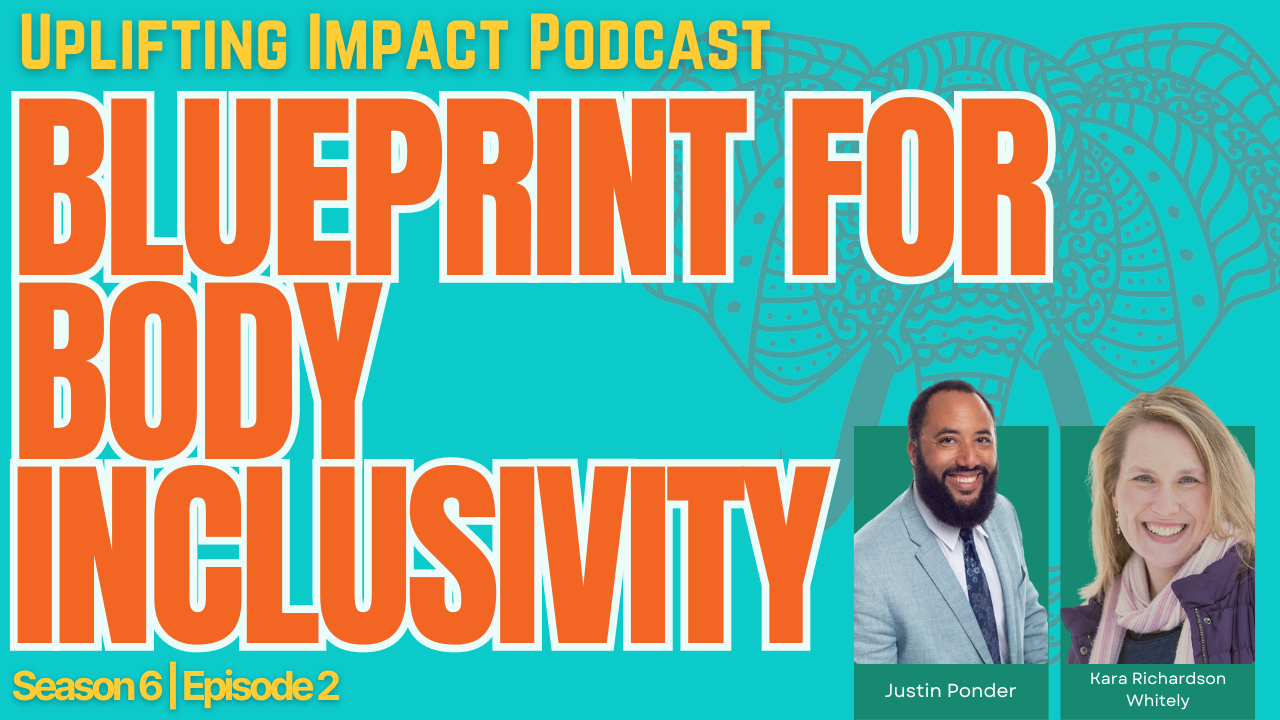 Organizations that prioritize body inclusivity see real business benefits.
In this episode of the Uplifting Impact podcast, we dive deep into the inspiring story of Kara Richardson Whitely, an unstoppable force challenging societal expectations and promoting body inclusivity.
Hosted by Justin Ponder, this empowering conversation uncovers the transformative journey of Kara, author of the awe-inspiring book, "Gorge: My Journey Up Kilimanjaro at 300 Pounds," as she unearths the astonishing impact of weight stigma and body exclusion.
Kara leaves no stone unturned as she delves into the profound significance of living unapologetically in the present and embracing empowerment, regardless of body size. By enveloping us in her captivating personal experiences, she uncovers the hidden truths and challenges faced by marginalized communities in today's workforce.
Through her compassionate lens, Kara sheds light on the dire consequences of weight bias and shines a light on the transformational potential when compassion and understanding are cultivated towards all bodies. Her wisdom will leave you inspired to foster genuine engagement with diverse communities, unlocking a world of endless possibilities for your organization.
If you're seeking practical insights and best practices to revolutionize your workplace and champion body inclusivity, then this electrifying episode is a must-listen! Kara radiates resilience and equips you with the tools to dismantle prejudice and create a truly inclusive environment.
🔊 Tune in now to this powerful episode and join the movement for authentic body acceptance.
TOPICS IN THIS EPISODE:
The belief that the world will become more body-inclusive in the future, challenging diet culture and embracing diverse body shapes and sizes

Kara's experience climbing Kilimanjaro multiple times, the impact it had on her body and mental health, and the inspiration behind her book "Gorge: My Journey Up Kilimanjaro at 300 Pounds"

The importance of compassion, acceptance, and living in the present moment

The pervasive weight stigma in different aspects of life, including the workplace, hiring, advancement, leadership roles, and daily interactions

The importance of including individuals with lived experience in decision-making processes for authentic communication and engagement with communities

The need for brands to involve people in larger bodies in planning, designing, and marketing efforts to avoid appearing disingenuous or performative

The significance of body inclusivity as a business imperative for growth, attracting and retaining talent, and improving the customer journey
RESOURCES:
Kara Richardson Whitely's Website - https://www.kararichardsonwhitely.com/
Connect with Kara on Facebook - https://www.facebook.com/Kara.Richardson.Whitely/
Connect with Kara on LinkedIn - https://www.linkedin.com/in/kara-richardson-whitely/
Connect with Kara on YouTube - https://www.youtube.com/channel/UCpFeYCRs4Web0UJdWoXGIqg
Connect with Kara on Instagram - https://www.instagram.com/kararichardsonwhitely/
Gorge: My Journey Up Kilimanjaro at 300 Pounds - https://www.amazon.com/Gorge-Journey-Kilimanjaro-300-Pounds/dp/1580055591
Deanna's Linkedin: https://www.linkedin.com/in/deannasingh/
Justin Linkedin: https://www.linkedin.com/in/justin-po%E2%80%A6
Uplifting Impact Linkedin: https://www.linkedin.com/company/upliftingimpact/
Facebook: https://www.facebook.com/purposefulhustle/?ref=page_internal
Instagram: https://www.instagram.com/deannasingh1/?hl=en
Uplifting Impact YouTube: https://www.youtube.com/channel/UCNs1RS6JqrU7BHeOc5W6SbQ
Uplifting Impact Website: https://www.upliftingimpact.com/?hsLang=en
Other Conversations We've Enjoyed