DEI Work: Not a One-Size-Fits-All Solution
June 6, 2023

Deanna Singh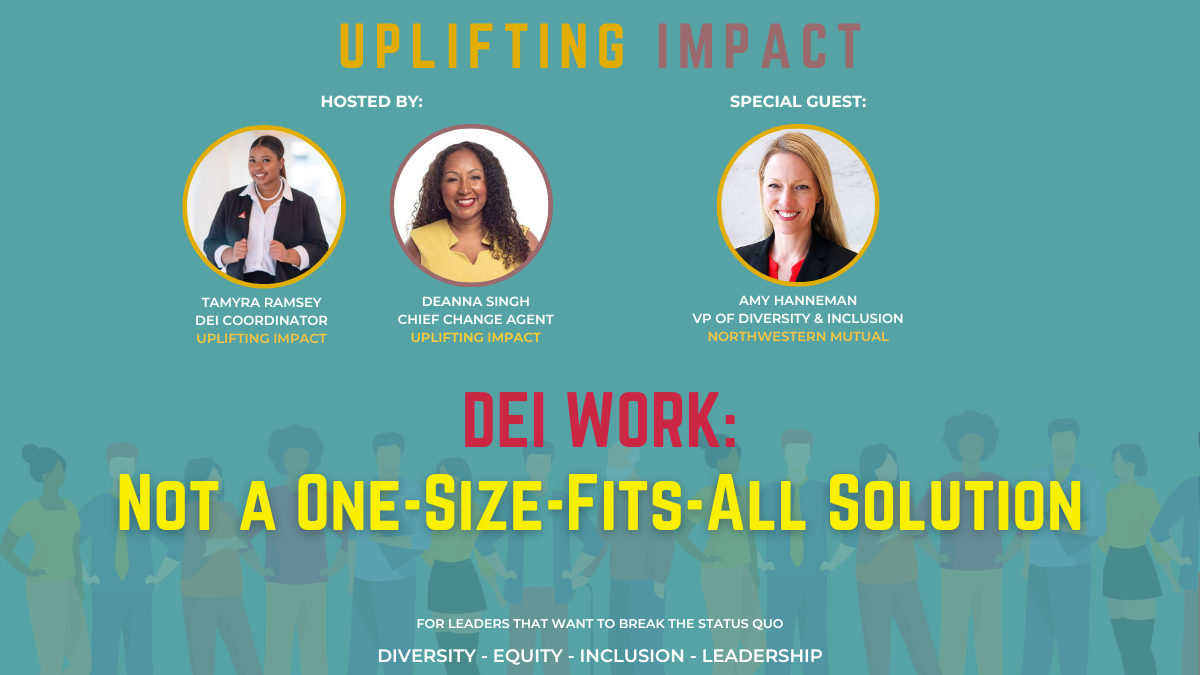 Are you tired of hearing the same old DEI strategies that don't seem to work for your organization? Then tune in to this episode of the podcast, "DEI Work: Not a One-Size-Fits-All Solution," with guest Amy Hanneman.
Amy shares her personal journey towards diversity, equity, and inclusion work and emphasizes the importance of human connection in leadership development. From a working-class background, she highlights the gaps in workplace systems and the need for long-term commitments from organizations to implement successful DEI initiatives.
But Amy's approach to DEI work is unique. She stresses the importance of building one-on-one relationships with people from different backgrounds to promote inclusivity in the workplace. This episode will challenge your preconceived notions about DEI work and inspire you to take a more personal approach to promoting inclusivity in your workplace.
So, if you're ready to hear from a DEI expert who understands that there is no one-size-fits-all solution, tune in to this episode! You won't want to miss Amy's refreshing and effective approach to DEI work.
TOPICS IN THIS EPISODE:
Introduction to Amy's personal background and career journey

Importance of personal details on resumes

Amy's experience with Raytheon leadership development program

Transition to government relations and advocacy work

Love for advocating for others and diversity and inclusion work

Building rapport and trust with others

Relationship building components

The value of seeing individuals as humans

Importance of trying in DEI work and readjusting

Micro-inclusions for non-leadership individuals

Senior leadership commitment for successful DEI initiatives

Northwestern Mutual's commitment to DEI

Workplace systems modifications for DEI

Positive results at Northwestern Mutual since implementing DEI initiatives

Talent management system at Northwestern Mutual

Importance of face-to-face interactions for talent

Formal and informal development structures

Intentional leadership development

DEI and leadership training are interconnected

Personal connection and flexibility in DEI work

Perception plays a crucial role in careers

Importance of getting to know your people as a people leader

One-on-one interactions for promoting inclusivity

- Importance of building relationships with people from different backgrounds
RESOURCES:
Amy Hanneman's LinkedIn: https://www.linkedin.com/in/amy-hanneman-9167053
Northwestern Mutual's Website: https://www.northwesternmutual.com/
Deanna's Linkedin: https://www.linkedin.com/in/deannasingh/
Justin Linkedin: https://www.linkedin.com/in/justin-po%E2%80%A6
Uplifting Impact Linkedin: https://www.linkedin.com/company/upliftingimpact/
Facebook: https://www.facebook.com/purposefulhustle/?ref=page_internal
Instagram: https://www.instagram.com/deannasingh1/?hl=en
Uplifting Impact YouTube: https://www.youtube.com/channel/UCNs1RS6JqrU7BHeOc5W6SbQ
Uplifting Impact Website: https://www.upliftingimpact.com/?hsLang=en
Other Conversations We've Enjoyed