Embracing The AI Disruption: Leading the Next Gen Workforce
October 4, 2023

Deanna Singh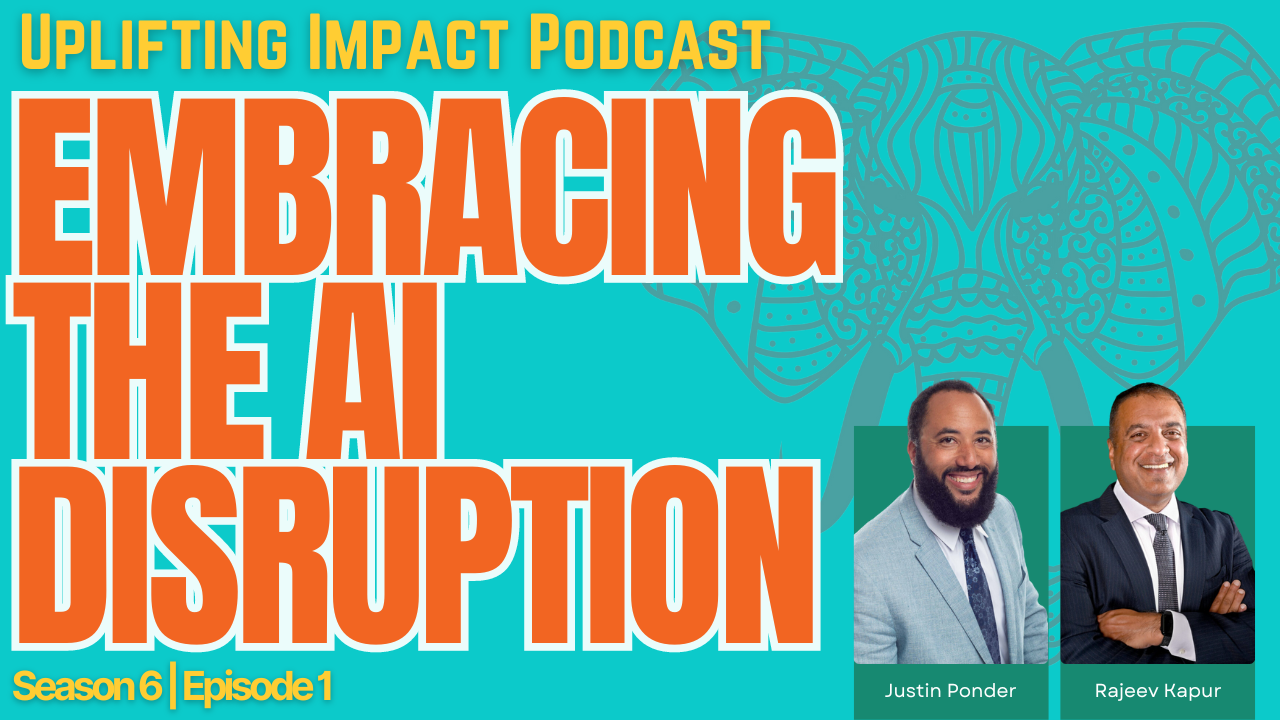 Catch a thought-provoking conversation on the latest episode of the Uplifting Impact podcast, featuring Rajeev Kapur, CEO of 1105 Media Inc. Explore the significance of embracing disruption and technological advancements, particularly Artificial Intelligence (AI) and machine learning, with a focus on enhancing productivity and creating new job opportunities in today's rapidly evolving landscape.
From leading his team to embrace AI technology to leveraging the benefits of remote work and fostering a positive company culture, Rajeev shares invaluable insights on navigating the changing workforce dynamics. Gain a deeper understanding of the demographic shift and the importance of collaboration between different age groups, as well as a sneak peek into Rajeev's upcoming book on generative intelligence.
Don't miss out on this enlightening episode! Tune in to listen to Rajeev Kapur's perspectives and gain actionable insights that can help you thrive in the age of disruption. Remember to share this episode with your network and join the conversation on embracing the future of work.
TOPICS IN THIS EPISODE:
Rajeev's passion for sales

How businesses should embrace and adapt to disruption

Coaching leaders to embrace and navigate rapid changes and disruptions in the workplace

The rapid spread of ChatGPT among college students and the initial skepticism it received

The value of AI tools and how they transform companies' approach to work

The importance of servant leadership, embracing remote work, and adapting to individual employee needs

The benefits of remote work, including flexibility for women and those with chronic pain

The importance of building a culture based on empathy, gratitude, resilience, accountability, and transparency

Creating a partnership between older and younger demographics and how they can work together

The importance of prioritizing and providing solutions for internal customers to enhance their job satisfaction and improve overall business performance
RESOURCES:
Rajeev Kapur's Website - https://rajeevkapur.com/
Connect with Rajeev Kapur on LinkedIn - https://www.linkedin.com/in/rajeevkapur1/
Connect with Rajeev Kapur on YouTube - https://www.youtube.com/channel/UCXonc56PH6Dfmk7LaZF2ywQ/featured
Connect with Rajeev Kapur on Instagram - https://www.instagram.com/therajeevkapur/
Connect with Rajeev Kapur on Twitter - https://twitter.com/rajeevkapur?lang=en
Email Rajeev Kapur - rajeev@rajeevkapur.com and rajeev@1105media.com
AI Made Simple: A Beginner's Guide to Generative Intelligence - https://www.amazon.com/Made-Simple-Beginners-Generative-Intelligence-ebook/dp/B0CD9M49G6?ref_=ast_author_mpb
Chase Greatness: Enlightened Leadership for the Next Generation of Disruption - https://www.amazon.com/Chase-Greatness-Enlightened-Leadership-Generation/dp/1642251895
Deanna's Linkedin: https://www.linkedin.com/in/deannasingh/
Justin Linkedin: https://www.linkedin.com/in/justin-po%E2%80%A6
Uplifting Impact Linkedin: https://www.linkedin.com/company/upliftingimpact/
Facebook: https://www.facebook.com/purposefulhustle/?ref=page_internal
Instagram: https://www.instagram.com/deannasingh1/?hl=en
Uplifting Impact YouTube: https://www.youtube.com/channel/UCNs1RS6JqrU7BHeOc5W6SbQ
Uplifting Impact Website: https://www.upliftingimpact.com/?hsLang=en
Other Conversations We've Enjoyed