Leadership Lessons from the 2008 Financial Crisis
May 24, 2023

Deanna Singh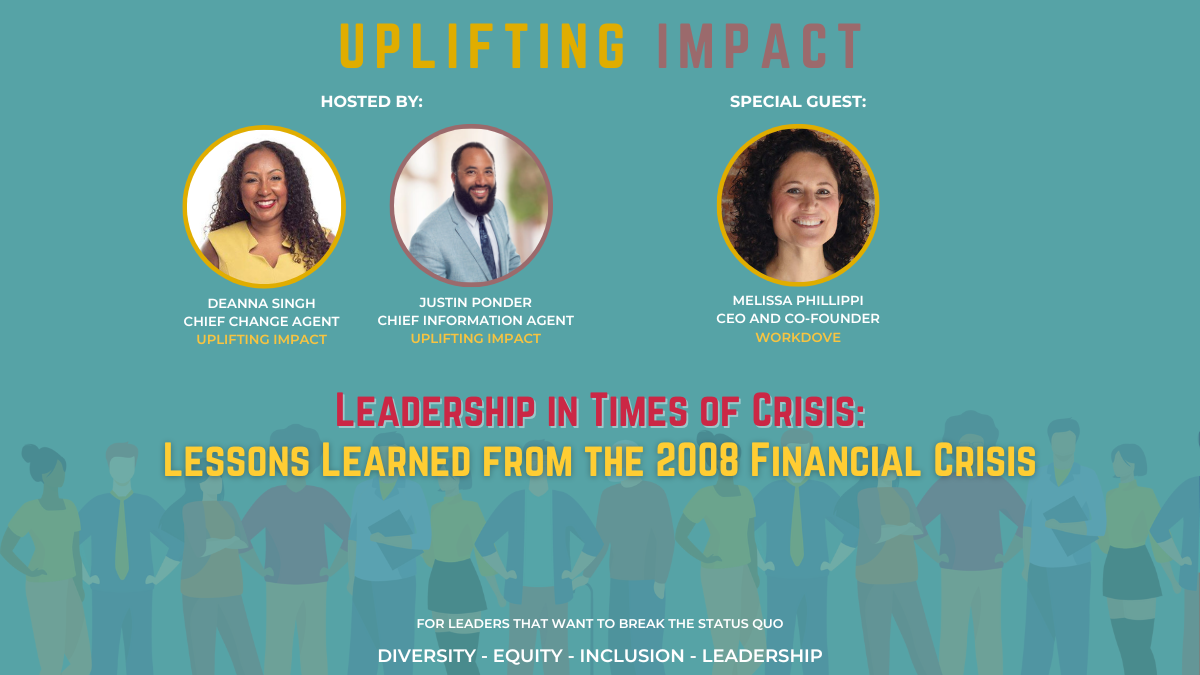 In this episode of the Uplifting Impact Podcast, we dive into the importance of leadership in the success of an organization with guest Melissa Phillippi. Melissa emphasizes that anyone, regardless of their position, can affect change within a company. She draws from her experience during the 2008 financial crisis.
The episode highlights the crucial role of individual contributors advocating for themselves and the significance of clear communication, purposeful preparation, and coaching conversations. Melissa also warns against the dangers of a toxic culture of winning at all costs and creating incentive plans based solely on performance rather than values.
Furthermore, we explore the impact of cancel culture and the consumer mindset it creates for employees. Melissa provides insights on how to navigate these challenges and foster a positive, growth-oriented culture within an organization.
So, if you're interested in learning more about the crucial role of leadership in organizational success and how you can make a difference in your workplace, tune in to this episode!
TOPICS IN THIS EPISODE:
[00:02:51] Spartan races have a spear throwing obstacle with a 30 burpee penalty. Training for it is difficult, so a wooden spear throwing setup was created for practice.
[00:04:43] Unable to become a fighter jet pilot due to poor vision, inspired by Top Gun.
[00:05:40] The text discusses a niche-focused HR technology platform that aims to bring peace to the workplace. The company has had to retool and is not for everyone, but their core values include grit and passion. The company assigns themselves difficult tasks to grow grit and resilience. The founder attributes some of her success to inner gifts like watching Top Gun as a child.
[00:09:33] The author became a founder because they couldn't find a suitable performance and talent management platform that focused on values as well as performance. Their background is in banking and investments.
[00:11:10] The financial crisis revealed cultural toxicity within banks that valued performance over values, resulting in layoffs based on a broken performance management system. Focusing on core values and behaviors could have prevented the crisis and its consequences.
[00:16:58] Core values are essential to guide employee decision-making in the absence of training for every scenario; operationalizing those values with examples encourages peer-to-peer recognition and cultural understanding, which is vital for scaling.
[00:19:05] Leadership is the key to success in organizations and it's important to have regular check-ins with managers, especially for introverted individuals and remote workers. A focus on continuous improvement and communication can lead to positive change at any level of an organization.
[00:20:52] Leadership should bear major responsibility for change, but individuals must also be brave enough to speak up and effect change, especially in situations where inclusive behavior is not being observed.
[00:23:25] The speaker praises Susan Kane's book, "Quiet," for helping to build safe workflows for introverts, emphasizing the benefits of writing as a tool for clarity in communication. The workflows can be initiated by both managers and employees, and involve reading written communication ahead of time.
[00:25:16] Be prepared for coaching conversations and have agenda-driven one-on-ones to ensure clear communication and understanding of next steps in the workforce. Check-ins are important before performance reviews.
RESOURCES:
Melissa Phillippi's LinkedIn: https://www.linkedin.com/in/melissa-phillippi-55976244
WorkDove's Website: https://workdove.com/insider-melissa-phillippi-evolution-performance-management/
Deanna's Linkedin: https://www.linkedin.com/in/deannasingh/
Justin Linkedin: https://www.linkedin.com/in/justin-po%E2%80%A6
Uplifting Impact Linkedin: https://www.linkedin.com/company/upliftingimpact/
Facebook: https://www.facebook.com/purposefulhustle/?ref=page_internal
Instagram: https://www.instagram.com/deannasingh1/?hl=en
Uplifting Impact YouTube: https://www.youtube.com/channel/UCNs1RS6JqrU7BHeOc5W6SbQ
Uplifting Impact Website: https://www.upliftingimpact.com/?hsLang=en
Other Conversations We've Enjoyed