Breaking Barriers: Harnessing the Autism Advantage in Business
August 1, 2023

Deanna Singh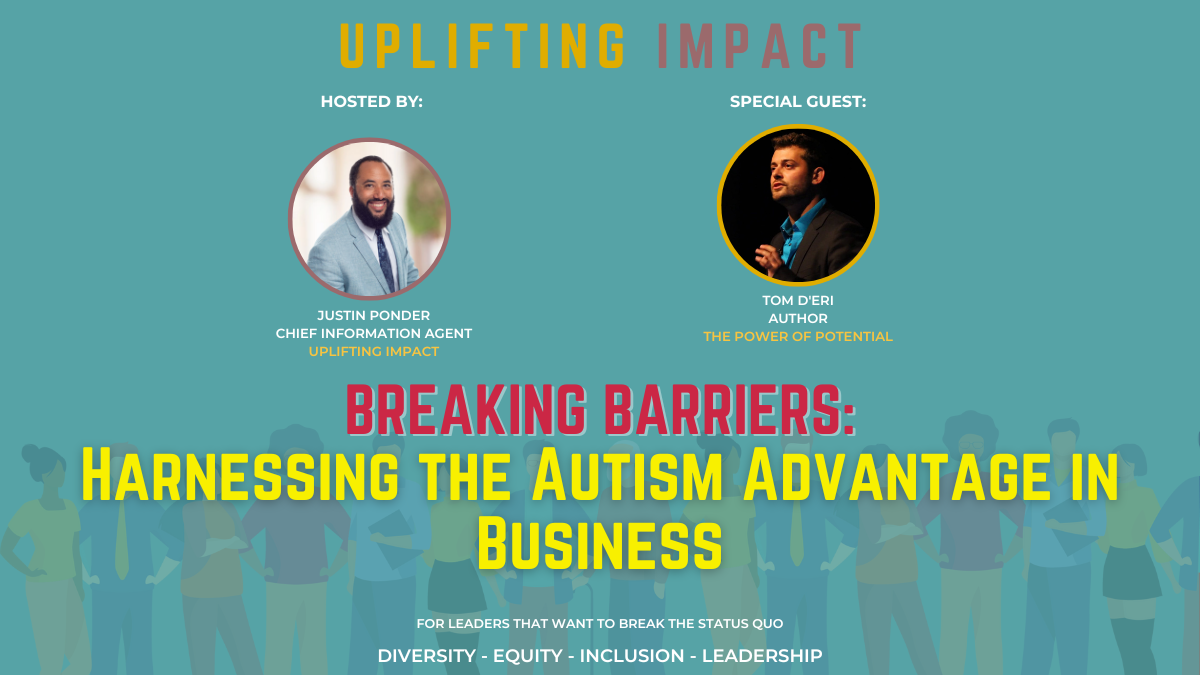 Are you tired of workplaces that overlook neurodiverse populations, failing to recognize their unique strengths and valuable contributions to the team? Do you believe that every individual deserves to feel seen and appreciated in the workplace? Then this episode of the Uplifting Impact Podcast is for you.
Join Justin Ponder as he speaks with Tom D'Eri, the CEO of Rising Tide Car Wash, about the power of neurodiversity and inclusivity in the workplace. Tom shares his personal story of inspiration, founded on his brother's experiences with autism, and how it led him to create a business that leverages the insights gained from employing individuals with autism to build better businesses.
During this thought-provoking conversation, Tom challenges common misconceptions surrounding neurodiverse populations and highlights the importance of understanding and acceptance. The episode shares inspiring success stories and mentions organizations that are promoting neurodiversity, such as Autism Speaks and the Autistic Self Advocacy Network.
Tom also discusses his upcoming book, "The Power of Potential," which explores strategies for creating inclusive workplaces and reveals how employing individuals with autism can benefit both the company and its employees.
Don't miss this opportunity to be inspired by the power of neurodiversity and uplift the impact of your workplace. Listen to the Uplifting Impact Podcast episode with Tom D'Eri now, and join the movement towards a more inclusive future.
TOPICS IN THIS EPISODE:
Tom shares the personal experience of his brother's autism and the lack of opportunities for individuals with autism, leading to the creation of Rising Tide Car Wash
Importance of setting clear expectations, providing explicit training, and holding people accountable to create a better workplace for individuals with autism and diverse backgrounds
How designing around the needs of individuals with autism, who are considered extreme users of organizational systems, can lead to insights that benefit everyone in the organization
Creating tools and systems to support individuals with different cognitive processing systems
Misconceptions and judgments towards individuals with neurodivergent traits, such as assuming they lack empathy or are disengaged
Strengths and capabilities of individuals with intellectual disabilities, and the importance of recognizing their unique perspectives and contributions
Cultural differences in smiling and the perception of smiling in different countries
Examples of neurodivergent individuals who have overcome challenges and achieved success in their careers
Tips and strategies for individual contributors to change their behavior and improve interpersonal relationships to create a more inclusive workplace
RESOURCES:
Tom D'Eri on LinkedIn - https://www.linkedin.com/in/derithom
Rising Tide U - https://risingtideu.com/
Rising Tide Car Wash - https://www.risingtidecarwash.com/
The Power of Potential: How a Nontraditional Workforce Can Lead You to Run Your Business Better - https://www.amazon.com/Power-Potential-Nontraditional-Workforce-Business/dp/1400228859
Deanna's Linkedin: https://www.linkedin.com/in/deannasingh/
Justin Linkedin: https://www.linkedin.com/in/justin-po%E2%80%A6
Uplifting Impact Linkedin: https://www.linkedin.com/company/upliftingimpact/
Facebook: https://www.facebook.com/purposefulhustle/?ref=page_internal
Instagram: https://www.instagram.com/deannasingh1/?hl=en
Uplifting Impact YouTube: https://www.youtube.com/channel/UCNs1RS6JqrU7BHeOc5W6SbQ
Uplifting Impact Website: https://www.upliftingimpact.com/?hsLang=en
Other Conversations We've Enjoyed