Diversity of Thought: Why it Matters and What You Can Do
August 9, 2022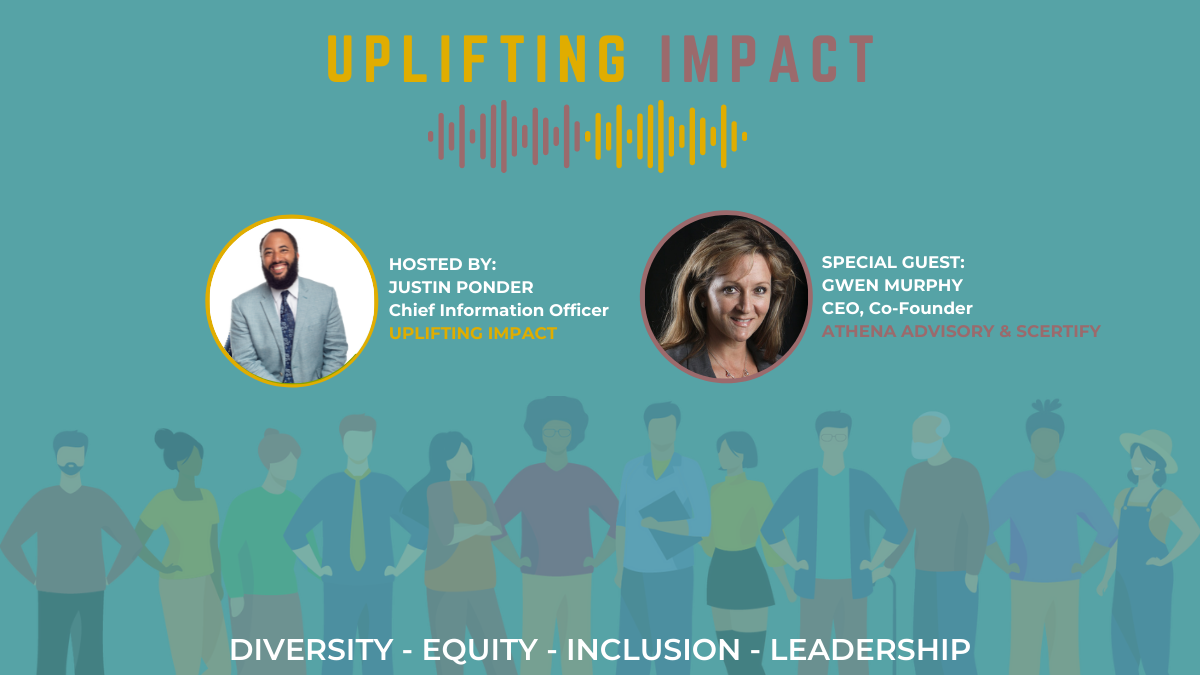 In this episode, Justin Ponder sits with guest Gwen Murphy, the Chief Executive Officer and Co-Founder of SCERTIFY. Gwen is a global technology executive providing technology strategy, architecture, and digital transformation leadership at IBM, EY, KPMG, and other firms. Over several years, much of her work has focused on the use of technology to improve human well-being. They discuss the keys to bringing more women into tech, the anatomy of a sustainable DEI strategy, and how combining ESG and DEI leads to business growth.
TOPICS IN THIS EPISODE:
How Organizations Can Use Technology to Improve Human Well-being
The Keys to Bringing More Women Into the Tech Industry
Effective Ways To Ensure More Women Land In Leadership Roles
The Impact of Tech on The Lives of Women and Underrepresented Communities
How to Build a Sustainable DEI Strategy
Why Your ESG Efforts Need DEI
The Why Of Work: Purpose And Meaning Really Do Matter
Why We Need to Start Embracing Diversity of Thought In The Workplace
Diversity in Leadership: Why it Matters and What You Can Do
RESOURCES:
Gwen's LinkedIn: https://www.linkedin.com/in/gwen-murphy-75090418/
Scertify.co: https://scertify.co/
Contact Gwen Via Email: Gwen.murphy@Scertify.co
Deanna's Linkedin: https://www.linkedin.com/in/deannasingh/
Justin Linkedin: https://www.linkedin.com/in/justin-po%E2%80%A6
Uplifting Impact Linkedin: https://www.linkedin.com/company/upliftingimpact/
Facebook: https://www.facebook.com/purposefulhustle/?ref=page_internal
Instagram: https://www.instagram.com/deannasingh1/?hl=en
Uplifting Impact YouTube: https://www.youtube.com/channel/UCNs1RS6JqrU7BHeOc5W6SbQ
Uplifting Impact Website: https://www.upliftingimpact.com/?hsLang=en
WHAT'S NEW
Uplifting Impact is excited to announce Actions Speak Louder, the latest book by author and DEI expert, our very own, Deanna Singh. This book, available starting May 31st, 2022, is a step-by-step guide on how to create change and inclusivity both in the workplace and beyond. In this book, Deanna seeks to answer questions for organizations and teams of all sizes on how to create more inclusivity. Actions Speak Louder creates a blueprint for those who are ready to read, take action now, and build a better tomorrow.
Order Actions Speak Louder NOW: https://www.upliftingimpact.com/actions-speak-louder-book
Other Conversations We've Enjoyed